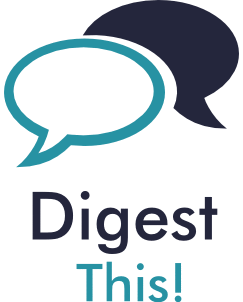 Welcome to Digest This!- a new and exciting project on behalf of the Scottish Society of Gastroenterology.
Here we will publish short clinically focussed updates on hot topics in Gastroenterology and Hepatology. Each session will host an interview with an expert with associated multiple choice questions and a certificate of completion. The MCQs and certificate are available for active members of the SSG only.
We hope you enjoy watching our webcasts. The project Digest This! is a work in progress and if you have any comments or suggestions please feel free to get in touch. Even better if you would like to participate or have ideas for future topics or speakers we'd love to hear from you!
Email: gastrodigest@gmail.com
Digest This! Co-editor Position
The Editors of Digest This! are looking for enthusiastic and organised GI trainees who wish to join the team.
We are looking to fill the position of co-editor for 1 year. If interested your commitments will include choice of topics, speakers identification and invitation, structure of interview, recording and editing.
The Digest This! Education channel is well established and recognised among Scottish GI community. However, we are now distributing Digest This! video to national scale via the BSG website to give you an unmissable opportunity to expand your curriculum and create connection with Gastroenterologist across the country.   
If you are interested in this position, please submit a short video message to francesca.moroni@nhs.net highlighting your reasons to apply for this post.
We are looking forward to welcoming you to the team.